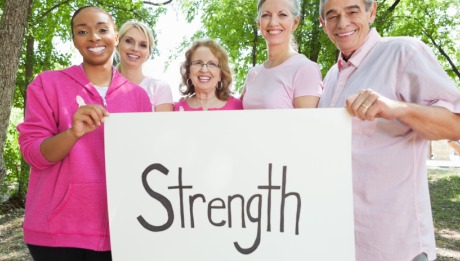 Surviving cancer is an incredible journey with many ups and downs. Whether you are post-treatment or still in treatment, you may continue to have questions and challenges. You may have continuing side effects from your treatment. You may worry about cancer coming back. You may struggle with permanent changes to your body. With more than 2.8 million breast cancer survivors in the United States, you're not alone.
One way to work through this period in your life is to connect with other breast cancer survivors. They understand what you've been through and may have answers to your questions. Likewise, you may be able to comfort another survivor in need. Connecting with other survivors online is a quick and easy way to reach out from home on your own time. Here, we share several online communities for people affected by breast cancer and other cancers.
Communities for People Affected By Breast Cancer
These online communities connect all types of people affected by breast cancer, ranging from newly diagnosed patients to long-term survivors, as well as their families and friends. Many of them have smaller communities, discussion boards, and chat rooms devoted specifically to breast cancer survivors and survivorship topics.
#BCSM – Social media community devoted to discussion around breast cancer topics including survivorship.
Breast Cancer Support Chat Room – Moderated chat room for people with breast cancer.
Breastcancer.org discussion boards – Mini websites for breast cancer patients to ask each other questions and have ongoing dialogue with each other. Discussion board topics specifically for survivors include "Moving Beyond Cancer" and "Growing our Friendships After Treatment."
eHealth Forum Breast Cancer Forum – Several different discussion boards around breast cancer topics.
Friends in Need – Breast cancer support forum including discussion boards and chat rooms around various breast cancer topics.
MedHelp Breast Cancer Expert Forum – Online forum with hundreds of breast cancer related topics including those about survivorship.
MyNBCF – Community for breast cancer survivors and their families and loved ones hosted by the National Breast Cancer Foundation.
Pink Ribbon Forum – International forum with hundreds of separate topics related to breast cancer.
Young Survival Coalition – Online community for younger women affected by breast cancer.
Communities for People With All Types of Cancer
These online communities connect all types of cancer patients, survivors, and their loved ones with one another. They have discussion boards with survivorship topics and specific sub-communities for breast cancer survivors.
Association of Cancer Online Resources – Collection of online support groups associated with breast cancer as well as general cancer topics.
Cancer Support Community – Online support groups for cancer survivors and their friends and family, led by licensed mental health providers.
Cancer Survivors Network – Discussion boards and chat rooms for survivors of all types of cancer, sponsored by the American Cancer Society.
CancerCare Post-Treatment Survivorship Support Group – This online support group lasts 15 weeks and is moderated by an oncology social worker. This group is for people who have finished treatment for any type of cancer. The group starts October 1, 2013.
I Had Cancer – Online support community for all people who have been touched by cancer.
The Cancer Forums – Discussions for any type of cancer including breast cancer.
Start Your Own Online Community
You can start your own online community for breast cancer survivors as well. This can give you the opportunity to have a smaller group that you can personally manage. You can do this using websites such as Facebook and Yahoo Groups, or you can use a content management tool to set up and organize your community, such as Joomla or Drupal.
Breast cancer-specific online communities alone contain more than 4 million posts about breast cancer topics. There are people everywhere who you can connect with about how to work through life after breast cancer. Several online cancer support communities are shown above. Or you can strike out and start your own. The important thing is to make connections to get the support you need during one of the most challenging times in your life.
Medical Reviewer: Cynthia Haines, MD
Last Review Date: Sep 23, 2013